Custom Kitchen is HERE! Watch TUNS live in a DIY cut & paste basement
Today is a super exciting day. A little while ago, I created a video series with my friends at Royal Mountain Records called Custom Kitchen. A live-off-the-floor performance series, where bands would perform live in a kitchen that we decorated uniquely for every episode using a bunch of paint, scissors, paper, and a whole lot of DIY.
Today, the first episode is finally live, featuring TUNS performing "Mind Over Matter" in a flowery, cut-and-paste meadow. Custom Kitchen is the live session of my DIY dreams. Check it out down below!
(Custom Kitchen presents TUNS performing "Mind Over Matter")
The story of how this all came about started a few years back on a very exciting and eventful day at the Royal Mountain HQ.
I was at the Royal Mountain Records parking lot shooting part of Pup's 'Mabu' music video. The video was directed by Menno Versteeg (Hollerado) and involved a whole bunch of other crazy talented people that I would eventually go on to make other cool stuff with. I don't think I'd ever been to a record label before then, and I loved all the bands on RMR so saying I was super excited would be an understatement.
During a break from the shoot, my pal Stefan from PUP gave me a tour of Royal Mountain Records. We were accompanied by Norman, Stefan's soon-to-be-adopted Chameleon, later immortalized in Pup's 'Sleep In The Heat'. We entered the building from the back and walked down to the basement, a kitchen / basement apartment lined with stacks of pizza boxes, paint cans, art supplies, and other miscellaneous items. Also ghosts. Mostly ghosts, in fact. Spooky!
We passed through the basement quickly as there wasn't really any reason for us to spend a lot of time down there. After all, it seemed to be just a kitchen full of random stuff. We ran up the stairs to the RMR studio - there were guitars along the walls, amps, drums, a big console, coils of cables hanging wherever there was an available perch. A big canvas with the Royal Mountain Logo painted in different colours filled one wall. Sweet!
A quick visit to the second floor office completed my tour. I was struck by the label's DIY spirit - the studio was inside a former living room, homemade shelves slapped with stickers in the office were stacked high with vinyl records and boxes of t-shirts, and we were out back shooting a music video with a spray painted car, a Cheerios milk bath in the trunk, and a bunch of reptiles.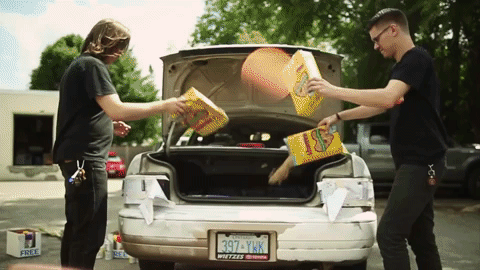 Days passed after the most bizarre music video shoot that I'd been a part of, and I needed to go back. I was inspired by every nook and cranny in the house and how it was being used to make cool shit and I wanted to go back. Oddly enough, that weird basement sparked an idea in me. I wanted to combine music videos, house shows, and arts & crafts all into one. A live series! And I wanted to do it here. A week or so later I found myself back at Royal Mountain pitching the basement idea to Hollerado.
They loved it, so we immediately got to work. We began clearing out the basement, and I asked my favourite photographer and good friend Yoshi Cooper if we could decorate the space with his iconic photographs. He sent over hundreds of his photos from his archive of photos taken at Toronto underground and DIY shows. I printed them and started taping them all over the cupboards, walls, and ceiling.
We dragged drums and amps down from the studio, and ran microphone cables down the staircases. Round one of decorating and setup was done and it was time to invite the first band, Pkew Pkew Pkew. Awesome!
(Photo by Mike Pajax)
After this, the label gave their blessing to paint, staple, glue, cut and paste anything and everything we wanted to in the kitchen and to do more sessions. Menno and I had a conversation along the lines of "is it cool if I paint all the walls?" "Yeah, totally." "Is it cool if I paint the cupboards?" "Yeah!" What about the fridge? "Yeah!" "How about the STOVE!?" "Let me check with the guys …. Oh yeah, you can totally do that....You should probably paint the floors and ceiling too, that will look awesome!" Right on!
It was snowballing pretty quickly into a pretty big production, accomplished fully DIY style by everyone at the label and our friends, in between running the day-to-day of the record label. There was only one rule - make a completely brand new set for each band.
Later on, we would take the concept of Custom Kitchen to the extreme for Hollerado's 'Born Yesterday' music video, which featured a total of six completely different sets built into two rooms a RMR - the (very same) basement and the recording studio! You can watch the video for that below :)
So, here it is, in all of it's colourful, scrappy, paint-splattered glory, Custom Kitchen. I hope you enjoy the first video as much as we enjoyed making it!